Kitbash Korner
---
Note: This is not a 'How To', but a display of a completed 'Scratchbuilt Project' showing what can be done with some materials and time. It does not have to have been judged for AP Points.
---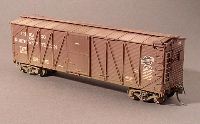 6/1/04 - This photo shows a completely scratchbuilt single-sheathed HO scale boxcar I built. It just won "Best of Show" in the modeling contest at the Thousand Lakes Region's 2004 annual convention last weekend... Click for More.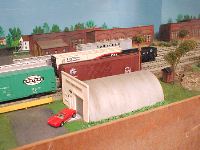 6/15/04 - Many people immediately think of the exquisitely detailed structure, car or locomotive when they hear the term scratchbuilding. However, scratchbuilding can take many forms. How about that spot on the layout that just calls for a special structure. When kitbashing isn't an option, you scratchbuild... Click for More.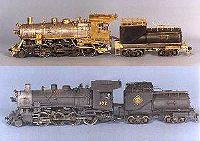 7/1/04 - As in past years entries in the steam locomotive division were slim, only three. Winner was a scratch build 1/4" scale Hudson (?) that took five years to build.

Connie took two years to build. Started almost the day we returned from St. Paul in 1999... Click for More.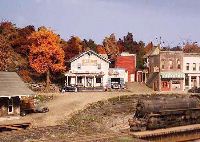 7/15/2004 - The "Eagle Fish Camp" idea came from a picture that I saw in a Model Railroader from the mid 80s. With just a little planning, the same type of structure became a focal point in Greensprings WV, a small town on my Shadowton Ridge North Railroad... Click for More.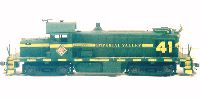 8/1/2004 - I have participated in modeling contests at both the Divisional and Regional levels and have found this to be very rewarding as it has made me a better modeler. In 1998, I felt that I was ready for the modeling contests at the National Convention in St. Paul... Click for More.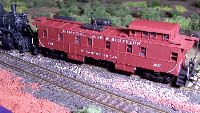 8/15/2004 - While I have not, as yet, participated in any modeling contests the dynamometer car shown was my first attempt at kitbashing. I saw an article in the February 1978 issue of Railroad Modeler Magazine, page 28, showing a similar type car and decided to give it a try.:... Click for More.

9/1/2004 - My little people were getting a little frustrated at having to walk to work every day from Cooncreek up to Tumbleweed Springs, just to do a days work then walk all the way back at night. So, - I thought I would give them a gift of a special speeder just to keep my little people happy. Here's how I made it... Click for More.

9/26/2004 - This model was my first Merit Award Winner. The model was built from an article in Railroad Model Craftsman magazine. The multi-issue article was about a Coal Mine Company Town. Since this model would be on display on a club layout, I modified the plans slightly...Click for More.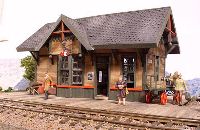 10/27/2004 - This depot was entirely scratchbuilt from stripwood and sheet wood, using an article by Ben King in the February 1970 issue of Model Railroader. Besides being scratchbuilt, each of the two sashes in every window operate (that is, they slide up and down), and both of the outside man-doors open and close...
Click for More.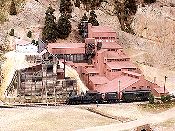 11/26/2004 - I first saw the Argo Gold Mill in Idaho Springs, Colorado, in January 1980 on my way to the ski slopes. I took a few pictures and then decided to build a model of it for my Nevadun Railroad. The next month, I went back and took a whole role of additional pictures. It only took me another 23 1/2 years to get around to starting on my...
Click for More.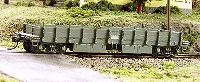 12/26/2004 - I would like to submit a photograph of a Gould 40' 50 ton flat car that was kit-bashed by my dad around 1982. He wanted to build a wheel car but was unable to find the needed parts. He wrote to the Gould Company asking... Click for More.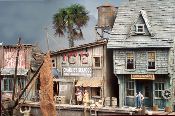 1/26/2005 - Here are some photographs of "Pelican Key", a mostly scratchbuilt HO scale diorama. This diorama won first place in the off line display category at the NMRA Sunshine Region convention in Deerfield Beach last month... Click for More.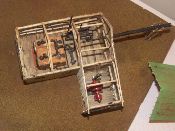 2/26/2005 - The sawmill is based on one that Jerry Strangarity did for the Eastern Loggers layout. It is built board by board using scale lumber. All of the machinery was reworked and the sawblades replace with etched stainless steel blades. The log jacker was built from... Click for More.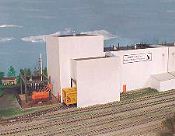 3/26/2005 - ...How about a plastics plant similar to one several blocks away from me. The search was on for photos and materials. I knew what it should look like and a trip to Train Central and Hobby Town gave me the styrene siding and strips and a later trip gave me the doors when I needed them (Scratchbuilding supplies are getting harder to come by.)...
Click for More.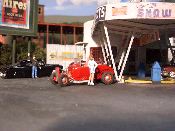 4/26/2005 - ...I was working on the next town, "Berkling, W.Va." on my SRNRR layout and looking for ideas when I came upon a book "Fifties Flashback : A Nostalgic Trip!" by Albert Drake. The front cover shows a drawing of a drive in with a girl on skates and I knew what was now going to be the center of attraction on 1st and Vine. Click for More.

5/26/2005 - ...This is "Miller Time" on the marine division of the Chesapeake Bay & Northern Railroad. I have grown to love model railroading in its association with marine operations. For my home railroad, the Chesapeake Bay & Northern I have taken the liberty Click for More.


6/26/2005 - ...The attached photos are of my Baldwin CNW #5000A DRS6-2-1000 built using left over parts from 2 AHM E8/9s that I had from building a E8 "B" unit several years ago. A friend of mine had seen the body laying... Click for More.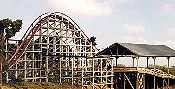 7/26/2005 - This is a brief discription of a model roller coaster I built in HO scale and hope to include it in a layout someday... Built in HO scale, the base is 18 inches wide and 4 feet long. The lift hill is about 5 inches tall... Click for More.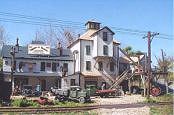 8/27/2005 - ...It is built from Kappler HO scale wood, Tichy windows and doors. The stacks on the roof are made of plastic lolly pop sticks with different style craft beads from Wal-Mart. Most of the boxes and barrels are scratch made from dowels and wood blocks.
Click for More.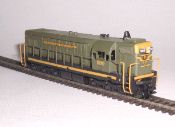 9/28/2005 - This is a TT Scale 42" gauge G-12. I patterned it after the very similar G-8's that CN ran on the narrow gauge Newfoundland Railway in the sixties. It is built from an etched ... Click for More.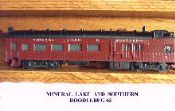 11/6/2005 - The ML&S doodlebug is kitbashed from a Roundhouse (MDC) combine and a coach. The power is supplied from what was an Athearn SW-1200 that had its frame cut in two. I saw an article for the project in a Model Railroader magazine back in the mid 1970's, as I recall, and decided to give it a try as I thought my road... Click for More.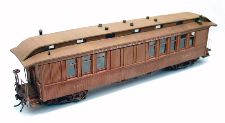 12/6/2005 - Building this car was a fun and interesting project. It was also a very intimidating one. This was my first attempt at building any kind of passenger car. Because I had not built this type of car before, I decided maybe a little "practice" might be in order... Click for More.

1/6/2006 - I'm modeling the Appalachians, so I needed bridges. Not being able to have a lot of bridges, how about one really big one, and a few small ones. If it's going to be big, it has to be a tall steel viaduct, and to make it different, let's add a curve. The plans were drawn, area located and construction started. When the smoke (and plaster dust) cleared, it was over 5 feet long.... Click for More.

2/6/2006 - Last fall my oldest son and I took a trip to Steamtown in Scranton, PA for one of the Fall Foliage excursions. The destination was Tobyhanna Junction where there is a working Ice House based on the type of Industry that was found there 100 or so years ago. On the way home I finally knew what I wanted to build for a barren section of my.... Click for More.

 
3/6/2006 - The flagstop for Glen Oaks was a quick and simple scratchbuilding project based on plans from the April 1979 issue of Railroad Model Craftsman. The freight shelter on the right was freelanced... Click for More.

 
4/7/2006 - Here are pictures of structures around the station at Constance, Ohio, on the CA&S (Charleston, Athens & Sandusky Railway). The station is from Blairline as is the small house on the extreme left. The large house is a scratch built 4 room cabin using plans... Click for More.

 
5/23/2006 - This is the Scmelle Meat Packing Co. on Mike Fifer's N Scale , Albuquerque Carnuel & Tijeras RR , in Las Cruces New Mexico.
Submitted here is the scratchbuilt cattle ramp into the second story of the Packing Plant. Click for More.
 

10/17/2006 - This is a street scene from the summer of 1954 in Minnesota and shows that you can achieve professional looking results by using commercially available sheet styrene.  Interior lighting, figures, and autos complete this scene.  Click for More.
 
---
If you wish to submit a photo for consideration, send the photo (no larger than 800x600 please) to TJ Klevar along with a description of how you built it, techniques you used, and any special tips you wish pass along.
---