ML&S Dynamometer Car
---
Note: This is not a 'How To', but a display of a completed 'Scratchbuilt Project' showing what can be done with some materials and time. It does not have to have been judged for AP Points.
---
Click on small photo for the larger
---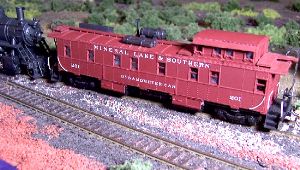 Larry Crocker said:
Attached is a picture of my roads only dynamometer car. I realize it doesn't look professional by any stretch of the imagination but it was my first such project back in the mid 1970's. I thought it might show newcomers that it isn't hard to kitbash something and everyone has to start somewhere. So... here's the description should you want to use my picture:
While I have not, as yet, participated in any modeling contests the dynamometer car shown was my first attempt at kitbashing. I saw an article in the February 1978 issue of Railroad Modeler Magazine, page 28, showing a similar type car and decided to give it a try. The car is made up of two Athearn cabooses cut in half with appropriate items added and the results weren't bad. The decals were applied one letter at a time but I have since had decals made for my freelance railroad which obviously makes lettering much easier. The pictured car has served my road (Mineral Lake and Southern Railroad) for well over 25 years and is still going strong. It is my hope that newcomers to the NMRA site (Scratchbuild Showcase/Kitbash Kornerwill) see that kitbashing isn't hard and the results, even on the first try, can be worthwhile.
Larry Crocker
Yes, Larry, I can use it. It looked pretty good to me! - rph
---
If you wish to submit a photo for consideration, send the photo (no larger than 800x600 please) to TJ Klevar along with a description of how you built it, techniques you used, and any special tips you wish pass along.
---